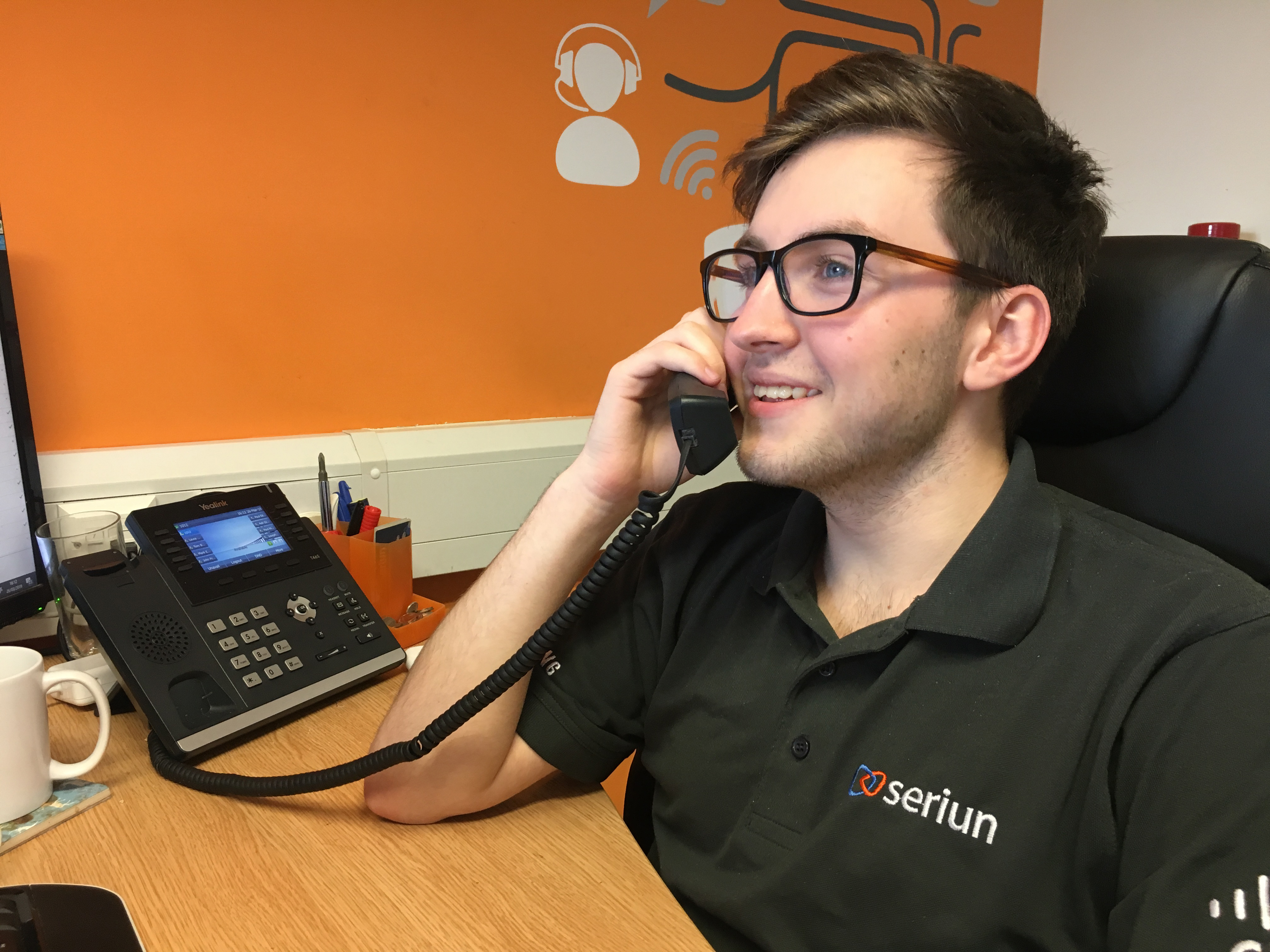 At Seriun we are passionate in developing young talent in technology, and really want to do our bit to encourage more students to choose careers in tech, when the time comes.
We work closely with our local FE institutes namely Burnley College and Project Digital, and support them by delivering specialised talks and presentations on IT and Cyber Security to their students. The youngsters are invited to our offices to gain a good understanding of what makes a thriving ICT business. Spending time in each department allows them to appreciate the different business functions and how they work together to form a successful IT enterprise.
The fruits of these partnerships feed our recruitment strategy. From each IT student cohort we choose a candidate (selected during an interview process) who will join us for the next two years in an apprenticeship role. This is a proven process and over the years we have had apprentices complete their courses and stay with us to progress their career in ICT.
Our latest success story is Jake Houghton who joined us at our Warrington office last summer as telecoms support engineer apprentice when he was just 17. From Golborne, Wigan, Jake lives with his family and enjoys skiing, in particular his trip to the Rockies in Banff, Canada. He took a liking to tech at a very early age, which stemmed from his love for computers and gaming. He has come a long way since then and has just completed his apprenticeship with us. He has gained dual qualifications: Level 3 Diploma in ICT Systems & Principals for IT professionals; and Level 3 Diploma in ICT Professional Competence.
Jake said: "It's great to have this opportunity to progress my career in ICT with a tech company that's going places. I've gained a good knowledge of both IT and telecoms systems over the past 12 months through all my experience during my apprenticeship. So now I am able to offer technical support to both sides of the business in both a 1st and 2nd line support capacity."
Alan Scully Director of Telecoms said: "Jake is a great asset to the team and has shown huge potential with an exciting future ahead. Apprenticeships are a good thing for Seriun – we're not only helping shape and develop the apprentice for their own personal gain, but for ours too. We're creating the perfect fit for Seriun and at the end of it we have someone who understands our business, embraces our culture and has become an ambassador of our brand."
Alan continued: "It's a pleasure to support Jake in his studies and be a part of developing his career. We hope he stays with us for many more years to come."
We have also recently welcomed James Whillock into the team on the IT side of the business as apprentice IT support engineer. James lives in Bacup with his family and is a proficient roller skater who can even skate backwards with his leg in the air! He enjoys travel and his favourite destination so far is Amsterdam. James has been interested in technology for many years, with a particular passion for software development. He joins #TeamSeriun after completing a BTEC at Burnley College in Computing where he focussed on hardware, software and virtualisation. He has just started his two-year apprenticeship at Seriun and is part of our bustling service desk working as 1st line support helping to resolve customers' IT issues.
James said: "My placement with Seriun is the start of the next chapter in my life and the start of my career in technology. It was so important that I found the right company to work with, one that would support me through my learning and listen to my needs. I'm already enjoying my time here and besides the apprenticeship, Seriun will support me in working towards my Cisco CCNA qualification, focussing on routing and switching."
Richard Lee, Technical Director of Seriun said: "When we take on a new team member it's as much about Seriun being the right fit for them as them being the right fit for us. That's why it's important we have a flexible approach and can provide for the diverse needs of our team, especially our young apprentices. We need to make sure we can support them through their development – it is in our interest after all as we want them to continue their career progression with us after they have completed their course."
Contact us if you're interested in starting an apprenticeship with Seriun, or for career opportunities visit our Careers Page.