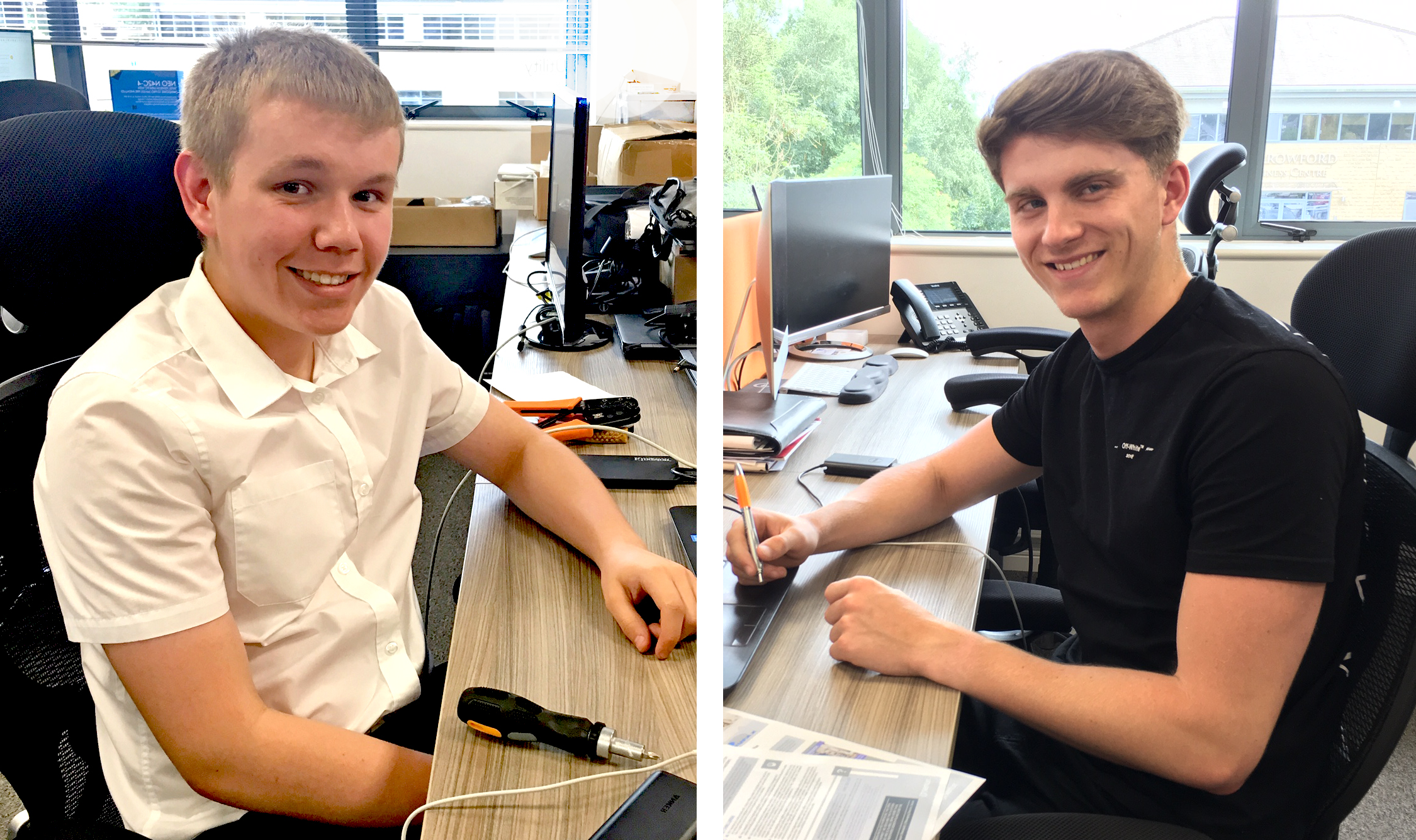 The summer holidays are here at last! That means two things – fun times and work experience for school leavers. So here at Seriun we thought why not combine the two and make work experience fun!
The past two weeks we have welcomed two students from Clitheroe Royal Grammar School into the Seriun team to carry out their work experience placements. Owen Rogan and Harvey Griffin joined us and were placed in departments of their choice, which complemented their future career plans.
Owen (17) from Huncoat had been studying computer science, psychology and business studies at A-level during his time at the grammar school. He's a very active young man and spends his free time in the gym or playing football. He is also well-travelled, and his most memorable trip so far is to Canada and the pick of the best include eating a nice steak in the revolving restaurant in Toronto's CN Tower, and having 'Breakfast with Bears' on Mount Whistler. One of his most proud moments was walking on the pitch at Wembley after being chosen as a mascot when he was 13 years old.
During his week placement, Owen helped our Service Desk team and shadowed our Service Desk Manager Matthew Whittaker. He gained a real understanding of what it takes to deliver an outstanding level of service – getting to grips with our business management software and learning how we process customer enquiries. He also had insight into our proactive systems and how we use them to keep our customers' operations safe and secure. He even had a dabble in software development!
Owen said: "I've enjoyed my time at Seriun, it's been really great working as part of a busy service desk and seeing how a successful operation works. In particular learning about their security services and the solutions Seriun provide to protect their customers' businesses."
Matthew Whittaker, Service Desk Manager of Seriun said: "It's been a very positive experience having Owen on board with us. Hopefully we've given him some invaluable knowledge of what makes great customer service, as well as technical insights into the security solutions we offer, which he was particularly interested in. We hope we've been an inspiration for his future plans."
Harvey (17) from Wilpshire leaves Clitheroe Royal Grammar after completing A-levels in Psychology, Business Studies and Economics. He enjoys many sporting hobbies including, swimming, running and cycling. He is so good he was chosen to represent Team GB in the triathlon 2016-2018, and more locally he swims for the Burnley Bobcats. In his spare time, he likes to compose and record his own techno music, and his claim to fame is meeting American rapper/record producer Travis Scott in Vegas.
At the start of his placement, Harvey reviewed our brand guidelines and completed a factfinding quiz, which had him exploring Seriun's history, culture, brand and personality. He then had good foundations to tackle some project work and assisted in content writing and advert designing.
Harvey said: "It's been a great experience working with Seriun's marketing department, with a diverse range of projects to get stuck into there hasn't been a dull moment. It has certainly helped me in deciding my future direction. Thanks Seriun!"
Laura, Marketing Manager of Seriun said: "Harvey has excelled during his week placement and has certainly shown a creative flair in the work he's completed. He's got involved with blog writing and campaign creation. A cheeky chappie with a very bright future ahead, all the best Harvey."
During summer, school and college leavers will be thinking about their future and the prospect of taking up an apprenticeship with a good local company. To give you an idea of what an apprenticeship would be like at Seriun, please read our latest blog piece: The Apprentice.
If you want to explore career/apprenticeship opportunities at Seriun contact us on: 01282 500770 or visit our Careers Page.