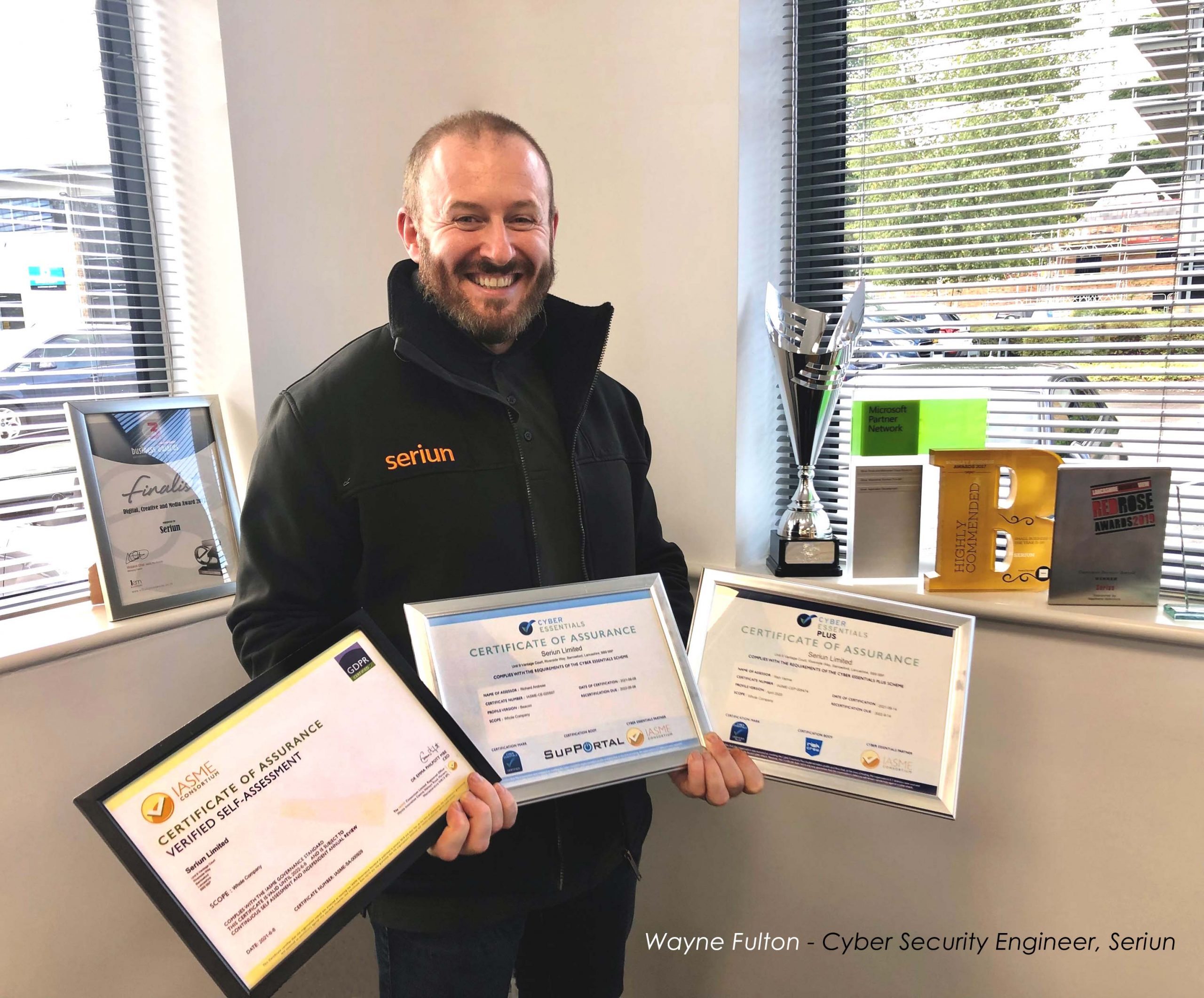 Leading tech company Seriun, have a strong commitment to cyber security, which is demonstrated through their Cyber Essentials, Cyber Essentials Plus and IASME Governance accreditations, which they have recently had renewed.
With cyber threats increasing in both volume and sophistication, Cyber Essentials and IASME Governance are increasingly important frameworks to help businesses get cyber secure by properly configuring their IT systems and network settings. Seriun are helping businesses to achieve these accreditations.
Cyber Essentials aims to help organisations implement basic levels of protection against cyber attack, demonstrating to their customers that they take cyber security seriously. The scheme is available at two levels:
Cyber Essentials – an independently verified self-assessment. Organisations assess themselves against five basic security controls and a qualified assessor verifies the information provided.
Cyber Essentials PLUS – a higher level of assurance. A qualified and independent assessor examines the same five controls, testing that they work in practice by simulating basic hacking and phishing attacks.
IASME Governance certification is an additional accreditation to Cyber Essentials and a very cost-effective way allowing SMEs to demonstrate a high level of ISO 27001 comparable security awareness. It also shows that good steps are being taken to properly protect customer information.
Wayne Fulton, Cyber Security Engineer at Seriun, became a qualified Information Security Assessor (ISA) after he completed the IASME Consortium Governance Assessment course. Wayne is working with Seriun's customers to help them achieve the IASME Governance Standard and become GDPR and Cyber Essentials compliant.
Wayne commented:
"Protecting our data and that of our clients is fundamental in our business. The customers we have helped achieve IASME and Cyber Essentials accreditations are now enjoying peace of mind that their businesses are more robust and secure against cyber crime. Having these certifications also helps them build trust with other businesses, consumers, and partners."
Dr Emma Philpott, CEO of the IASME Consortium said:
"We're delighted for Seriun and I congratulate them for recognising the key role cyber security plays in any organisation. These certifications are also a true demonstration to their clients and potential clients that Seriun has invested in their customers' security as much as their own."
The Cyber Essentials Plus and IASME Governance certifications are the latest addition to the wider portfolio of Seriun's certifications including ITIL, ISO 27001 and ISO 9001.
The UK Government recognise the challenge from the current cyber threat and have the ambition to tackle it head on. Cyber Essentials is very much at the heart of their National Cyber Security Strategy and through gaining the certification, Seriun is making an important and valuable contribution towards the Government's aim of making the UK the safest place to do business online.
Seriun are fully qualified to guide businesses through the Cyber Essentials and IASME Governance frameworks. After the required self-assessments have been completed, Seriun will conduct an on-site audit of cyber policies and governance processes and procedures. Once passed, they will award the business with the relevant certifications.
To find out more please view Seriun's Cyber Security Packages, or call their Cyber Security Engineer Wayne Fulton on 01282 500770 who will be more than happy to help.