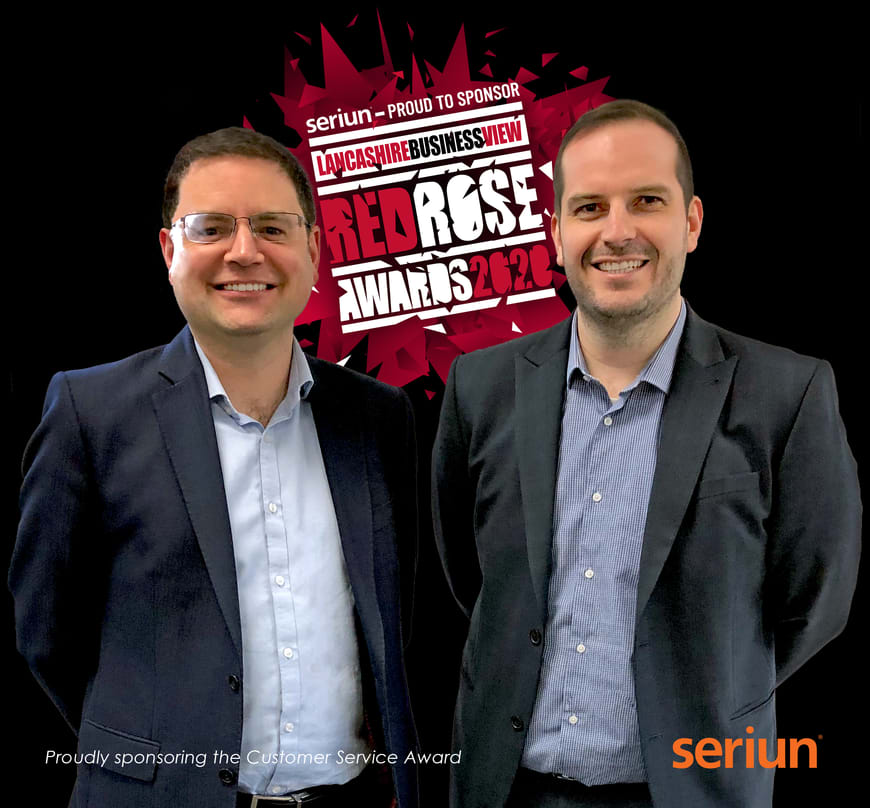 Seriun are thrilled to be sponsoring the Red Rose Awards for the second year running. After taking the Customer Service crown themselves last year, they wanted to give something back and stand proud as the category sponsor this year.
2020 marks the tenth Red Rose Awards annual celebration. Opening in 2011, the awards have become the centrepiece attraction for celebrating the achievements of the Lancashire business community. They are an opportunity for businesses to showcase their successes and with 25 categories available to enter, there really is something for everyone – from employer of the year and customer service award, to innovation and in-house training businesses of the year.
The awards provide the best possible platform to promote success with the aim of encouraging trade within the county. The awards shout about the businesses that keep the county alive – the heroes of the Lancashire economy.
Seriun's Red Rose judges Richard Lee, Technical Director and Mark Edwards, Operations Director are sitting on two panels each and will be helping judge the following categories: customer service, small business, medium business and new business of the year.
Richard Lee said, "We're really pleased to be supporting the Red Rose Awards for a second year, especially representing the customer service category. Everything we do has service excellence at its core, so hearing the service success stories of others is both an honour and a pleasure."
Mark Edwards said, "Trying to find a winner is a tough undertaking with the calibre of entrants renowned for being so high. As cheesy as it sounds, we really would like to give an award to every one. We wish all finalists the best of luck as the judging days grow closer."
Richard Slater, publisher of Lancashire Business View, said: "It's great that businesses from across the county have grasped this opportunity to shout about the great things they do! The Red Rose Awards are promoting this to the wider business community through Lancashire Business View magazine, LBV online, our social media following and through our many partners and sponsors."
To see the Red Rose finalists visit: Red Rose Awards Finalists
To learn more about the people behind Seriun, visit: Meet the Team