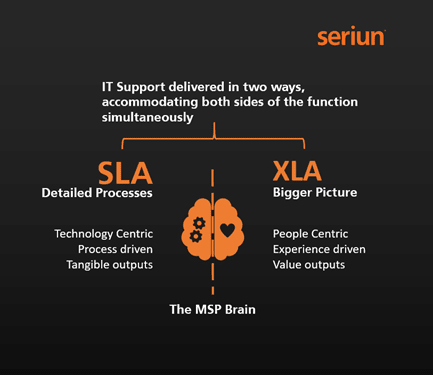 Seriun's mission is to continually improve and increase customer value. Our solutions enable clients to optimise their technology, so they can better serve their customers and stakeholders.
We are excited to announce that Matthew Whittaker has been appointed as our new Customer Experience Manager. In his new role, Matthew will head the team into our next development phase. Despite the challenges this year has created, Seriun has achieved impressive strategic growth. We continue to strive for improvements to better suit the needs of our customers and exceed industry standards.
Further investment in a new dedicated support team and bespoke software will enable us to better coordinate and advance the interactions and experiences that our customers have with their systems, devices, and services. This 'shift left' to move the focus from our operations centre demonstrates our unique value proposition to enhance the individual tailored experience for our valued customer base. The industry's legacy approach represents management of services through a traffic light system. Technical teams constantly monitor and proactively maintain service statuses. Often minimal attention is given to the person or user interacting with the services; or how the application is working for them – their 'experience'.
A different approach
Our innovative approach to IT Support changes the question to, 'What is each person experiencing when they use technology, how is it working from their perspective?' In addition to this way of thinking, this consideration enables effective management and response to improve the overall experience. Although a Service Level Agreement (SLA) is critical for all providers, it is an agreement centred around the 'service provider'. Many providers stop at their contractual service obligation and consideration for the human element is diminished or non-existent. A customer eXperience Level Agreement (XLA) is centred around the customer, although both approaches are required to deliver a full service. No single side of the equation dominates the other, merely simultaneously delivered in a managed way. This fundamental change in thinking places our customer before the 'status' of the system or service; with the more important question, "What is their experience of the system?". This novel approach eradicates barriers and enhances productivity, exemplifying a mature and modern service delivery and ensuring that Seriun are taking every step to better serve our customers.
Understanding the requirements of customers from a technical, service, and strategic perspective is critical to a successful and valuable offering.
Matthew will now become an ambassador, representing our clients, and providing the 'yin' to the techies' 'yang' or the other sphere of the 'MSP Brain' (See illustration above). Matthew's new role is the first step in our value enhancement strategy, and we will unveil further improvements very soon.
We feel confident that this innovative approach will result in a step change to the UK's small and medium sized businesses – improving experience, service, and productivity. We would love to hear your feedback on this, and we would welcome you all to share in this innovation with us. Please contact the team for more information