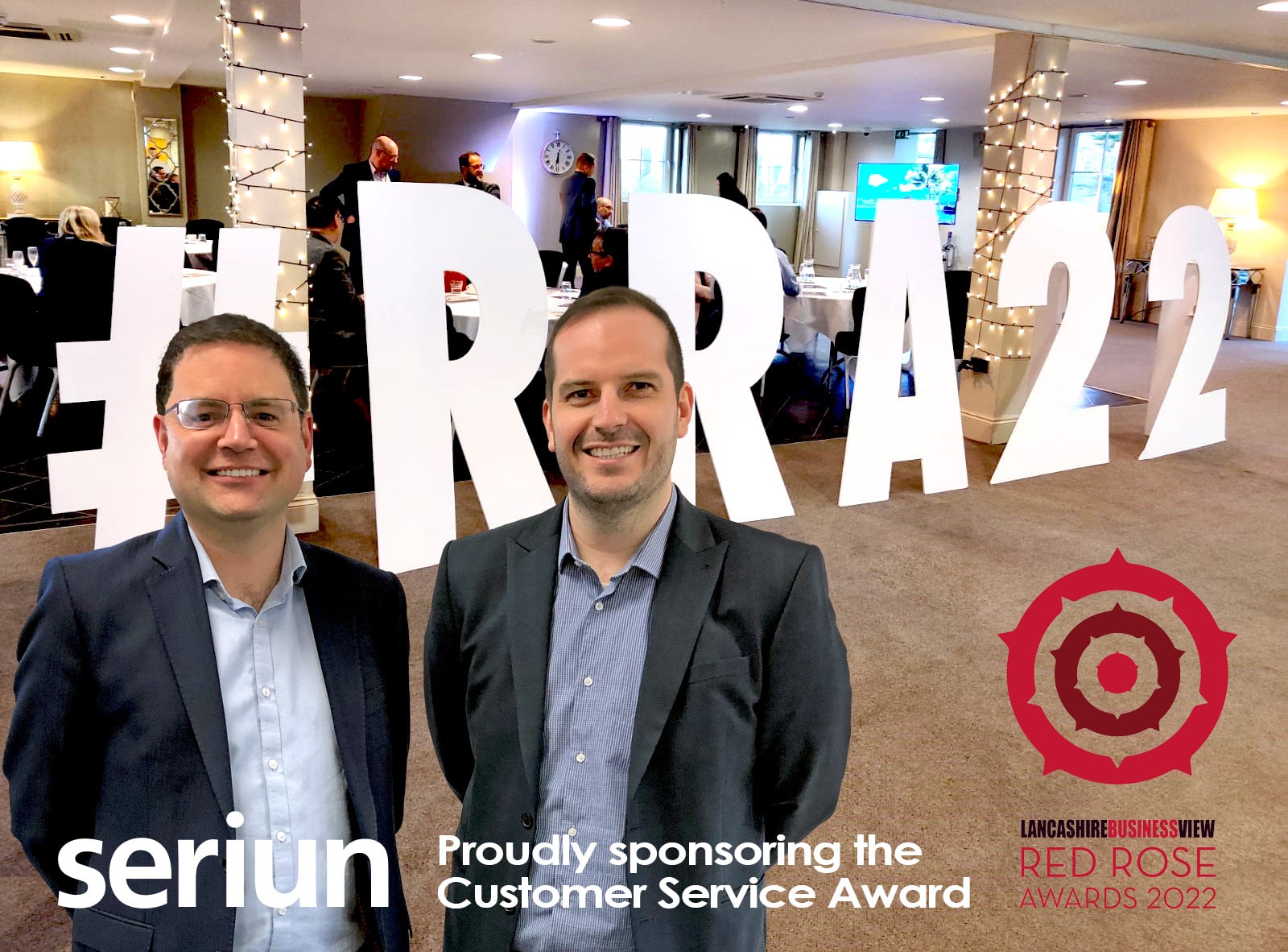 Lancashire based IT provider Seriun are supporting the Red Rose Awards for the fourth consecutive year.
Seriun are passionate about engaging and empowering their people to help customers deliver service excellence. This is why they are Red Rose Awards 'Customer Service' category sponsors – they are an authority in the area and pride themselves on delivering nothing less than excellent service to their own customers in accordance with their XLA. The nominated judges from Seriun are Technical Director Richard Lee and Operations Director Mark Edwards (pictured above L-R) and will each sit on two judging panels.
The Red Rose Awards celebrates the successes of Lancashire businesses through sector specific categories, and with 22 categories open for entries, there is something for all businesses in Lancashire to aim for. Categories include: Employer of the Year, Customer Service Award and the Innovation Award. 2022 also sees the addition of three new categories: Micro Business, Digital Award and Design Award.
Mark Edwards explains why Seriun support the Red Rose Awards:
RRA: How did Seriun first get involved with the Red Rose Awards?
ME: Our first encounter with the awards was in 2017 when we entered as a contender. Two years later we took the title of 'Best Customer Service Business of the Year' and couldn't have been more proud. Going forward, we decided to give something back and become the Customer Service award category sponsor.
RRA: What changes have you seen in the Red Rose Awards over the years that you have been involved?
ME: We feel the awards have matured and become more sophisticated over the years. The number of award categories on offer have increased – allowing the awards to expand their reach across Lancashire – gaining wider recognition and popularity.
RRA: What is the most rewarding part of being a sponsor?
ME: Everything we do has service excellence at its core, so meeting new businesses and hearing their service success stories is both an honour and a pleasure.
RRA: How do you feel that the Red Rose Awards benefit Lancashire?
ME: The awards promote the success of Lancashire businesses to each other, throughout the county and beyond – putting Lancashire firmly on the map as a thriving county with a diverse range of successful companies to do business with. This undoubtedly encourages trade among local businesses, which in turn actively supports the 'Bring Back a Billion' (to Lancashire) campaign.
RRA: How do you feel that your involvement with the Red Rose Awards benefits Seriun?
ME: Being associated with a reputable brand like the Red Rose Awards enhances the recognition and awareness of our own brand, in a positive way. The awards also provide us with the opportunity to meet like-minded businesses to potentially cross-trade with.
RRA: Do you have any words of advice for businesses who may be considering entering this year?
ME: Take a step back from your business to appreciate its successes and achievements. Realise the benefits your business brings to other people and other businesses. Be proud and just go for it.
Since the awards were launched in 2011, it has steadily grown and become the centrepiece attraction for the business community. Businesses interested in entering the awards have until midnight, Friday 18 March to submit their entry forms. The finalists will be announced on April 4, and they will then be given the opportunity to put their best case to the judges on April 27 and 28.
The awards ceremony will take place on Thursday 9 June 2022 at Winter Gardens Blackpool.
For more details visit: www.redroseawards.co.uk