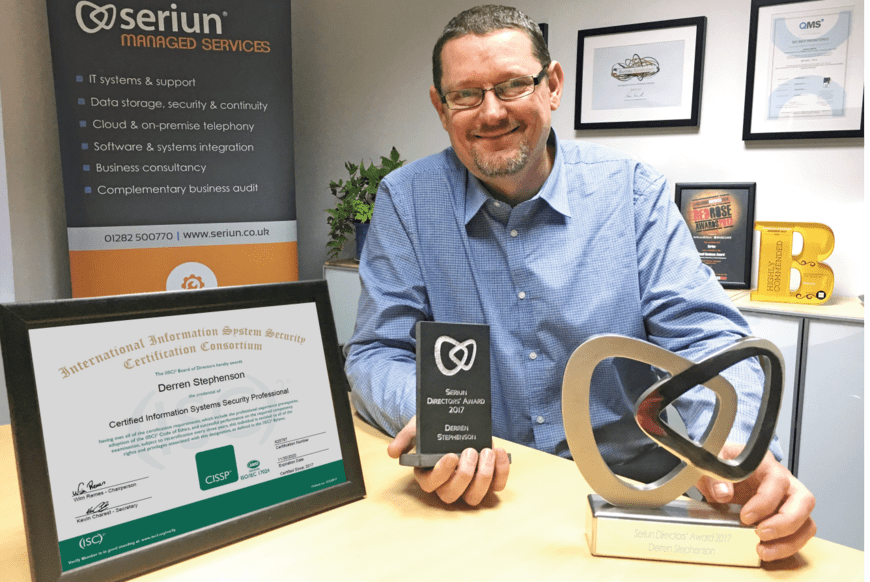 The world of cyber crime is progressing and it is crucial for businesses to implement robust security measures before they fall foul to cyber attack. Managed Security Service Provider (MSSP) Seriun have geared up their defences so they can provide their clients with advanced security solutions.
Business owners must choose the right partner for their security provision. They should look to appoint an MSSP with CISSP (Certified Information Systems Security Professional) accreditation, who are qualified to provide the security solutions, and the support, to help protect their business, data, people and clients from cyber crime.
Derren Stephenson, Head of Operations and Cyber Security of Seriun said, "With more and more people having access to hacking tools, it's possible for anyone to be a 'hacker'. Software is available online for a few pounds and it's not only the large multinationals that are at risk, but SMB's are being targeted more and more – you need to stay one step ahead to keep your company safe."
The CISSP certification is the most globally recognised standard of achievement in the industry, and was the first information security certification to be ISO/IEC 17024 accredited. It is regarded as a 'must-have' among the cyber security elite.
To be a cyber security pioneer and provide a superior level of service to clients, Seriun have invested heavily in raising their own defences so they can better defend their clients' businesses. Justin Sherwood, Managing Director of Seriun said, "Our technical teams have acquired industry standard security certifications and our Head of Operations and Cyber Security has recently achieved the Certified Information Systems Security Professional (CISSP) qualification."
Derren Stephenson, Head of Operations and Cyber Security explained, "To become a CISSP you need a minimum of 5 years direct full-time security work experience. You must then pass a 6 hour exam, and submit your professional work experience with contactable references, which is duly audited by the (ISC)2."
Stephenson continued, "I'm very proud to have achieved the CISSP certification. It's a way to demonstrate to our customers that our knowledge in cyber security has been audited by an independent third party, and that we have what it takes to design, engineer, implement and run advanced information security programs."
Stephenson's dedication and achievements were also recognised within Seriun, when he was awarded the Directors' accolade at the end of 2017.
Seriun have also invested in new innovative proactive security management systems. Sherwood said, "Our software constantly monitors customers' systems to expose malware and understand lateral movement of infections, enabling identification of issues before they develop – providing business continuity and uptime."
Seriun's focus is to ensure their customers are protected against cyber crime and are prepared for the fast approaching GDPR. In line with this, they have developed a set of cyber security packages to deliver to customers. Sherwood explained, "We carefully crafted three security packages for our customers: Iron, Steel and Titanium, based on our customers' requirements. There is an offering for all budgets depending on the level of security required."
For more information browse Seriun's Cyber Security Packages on their site, or call the Cyber Security team on 08081 643 644.