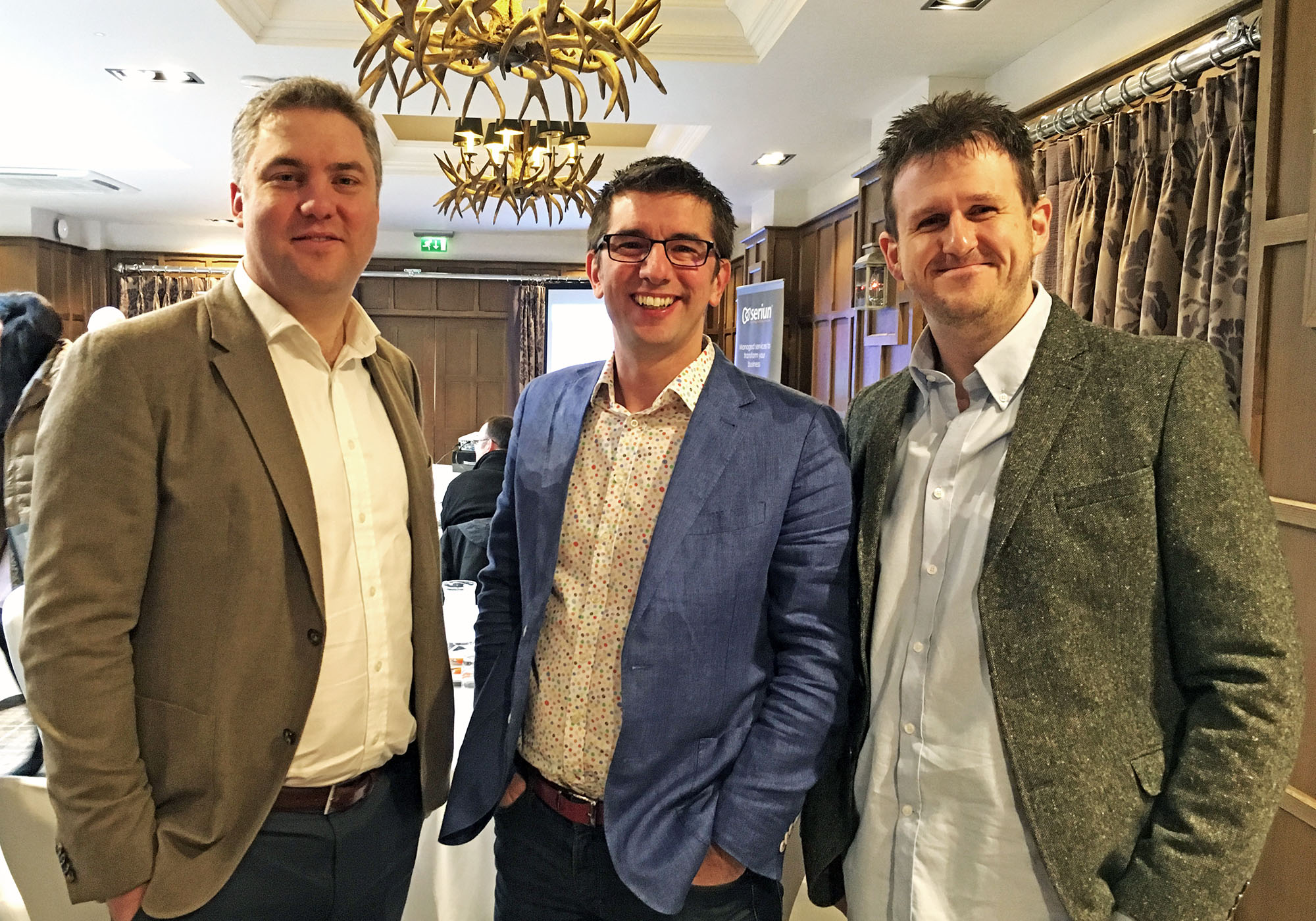 (Photo L-R: Seriun's Justin Sherwood with Door4's Leon Calverley and BLM's Steve Kuncewicz at the Data, Lies & Huge Fines seminar at the Fence Gate).
Leading Managed Security Service Provider Seriun, recently hosted a Cyber Security seminar for Lancashire businesses, to help get them ahead of the curve when it comes to IT systems security and data protection.
The Fence Gate in Burnley was the setting for Seriun's recent Data, Lies and Huge Fines breakfast seminar, which attracted over 40 local businesses. They gathered to hear essential advice and guidance from industry experts on getting cyber secure and compliant in time for the fast-approaching General Data Protection Regulation (GDPR) that will take effect on 25th May.
The event organised by Seriun – supported by digital marketing studio Door4, and commercial law firm BLM – focussed on empowering business owners and managers to securely manage their data, to protect themselves and their customers, as well as avoiding potential heavy fines for non-compliance.
Justin Sherwood, Managing Director of Seriun delivered the seminar along with Leon Calverley, Director of Door4, and Steve Kuncewicz Partner at BLM. They shared their wealth of knowledge from legal, marketing and IT security perspectives, and covered a range of issues including: compliance and data breaches; encryption and data protection; marketing and data collection.
Justin Sherwood said: "Under GDPR, Business Executives will be responsible for managing their own data security, while ensuring they have secure systems in place to protect against rising cyber crime. Through our seminar we hope we've enlightened our Lancashire businesses on best practice tools and techniques in order to achieve this, and at the same time alleviate some fears and concerns."
Leon Calverley commented: "The marketing landscape will be affected by the GDPR, and we're keen to ensure that organisations stay compliant and – crucially – improve their operations as a result of implementing best practice."
Steve Kuncewicz said: "The introduction of GDPR can leave a lot of businesses intimidated, but hopefully our seminar will help attendees step back from the noise and address the fundamental issues they'll need to get to grips with from 25th May and beyond."
As many businesses are still faced with taking steps towards raising their defences – cyber security and GDPR will remain the hot topics for some time. Justin Sherwood will be delivering further sessions on the matter over the next couple of months – he will be partnering with KBL solicitors for a seminar later this month, and will be holding a workshop as part of Burnley Business Week in May. To see the full details please see our events page.
Seriun urge all businesses to become at least Cyber Essentials certified by the GDPR deadline. They have developed three security packages for businesses who want to take security to the next level and beyond. To find out more please view our cyber security packages or call Seriun on: 01282 500770.