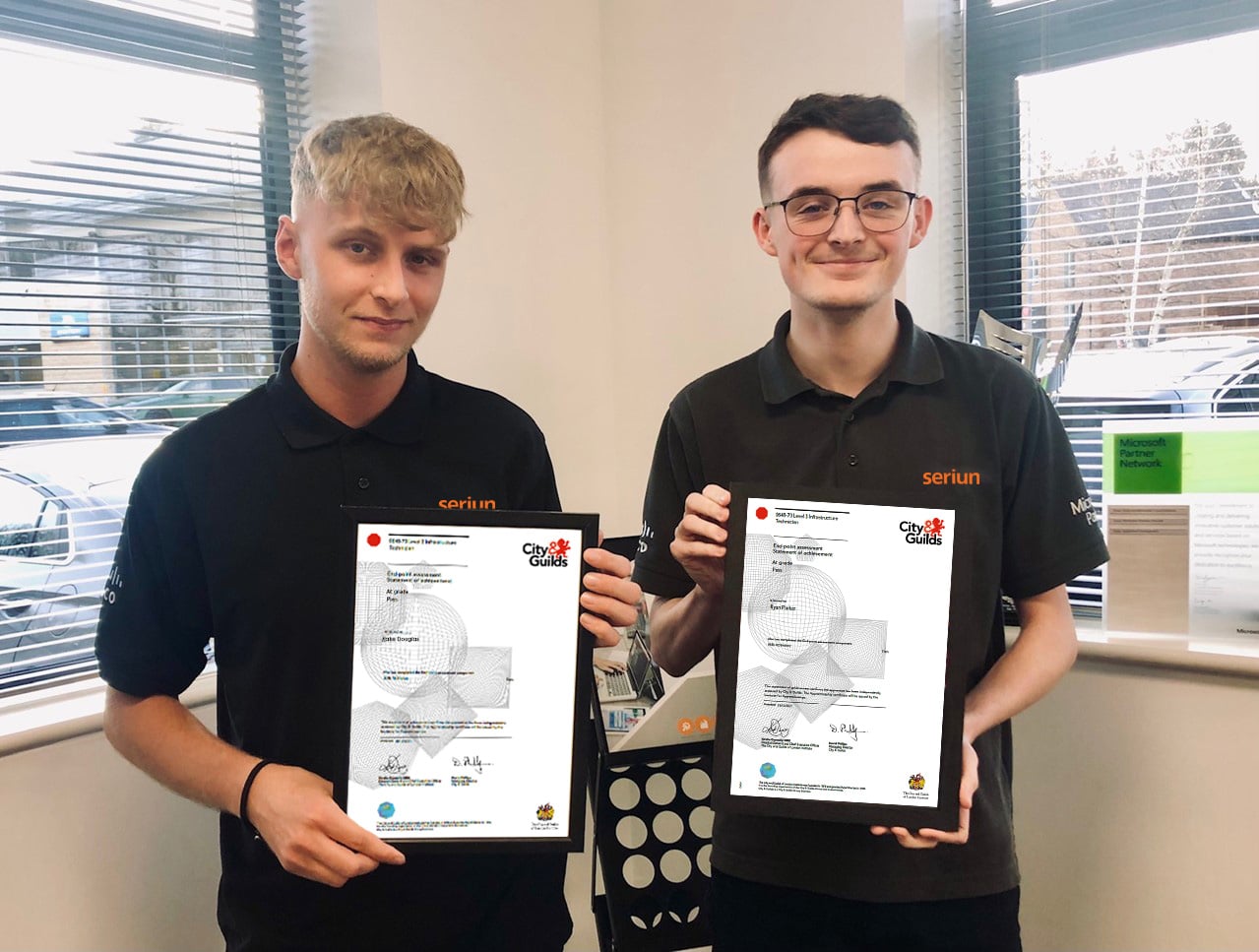 At Seriun we believe in investing in talented young people to develop their careers in the IT industry.
We want to encourage more people to choose STEM related professions once they've advanced beyond tertiary education, so in recent years we have worked with various schools and colleges to educate their pupils as to what they could expect if they chose a career in IT, and what the requirements and career progression opportunities would be. In addition, we invited various college cohorts to our offices to gain first-hand experience in a tech environment.
Working with the local colleges in this way has proved very successful. It has allowed us to headhunt talented individuals to join our team as part of an IT Apprenticeship. We operate a very busy service desk at Seriun, and continued growth means we are constantly on the lookout for new talent to join our team of expert engineers, to enable us to maintain our excellent service levels.
Jake Douglas and Ryan Parker joined our service desk in 2020 on 15-month IT apprenticeships from Nelson and Colne College, which they have now successfully completed. They have both come away with a plethora of Microsoft certifications including: MTA Networking Fundamentals, MTA Mobility and Device Fundamentals, Microsoft Azure Fundamentals and Mobile Device Operation Systems.
As a direct result of their achievements, the duo have progressed their careers at Seriun. They have taken on permanent full-time roles and shifted from fixing hardware and first-line issues, to being fully immersed within the service desk – completing significantly more complex problems in line with our XLA – ensuring they deliver nothing but excellent service to our customers.
On a more personal level, Jake lives in Foulridge with his family and enjoys football and films. You can regularly find him at the Soccerdome playing five-a-side footy with his Seriun team mates; turns out he has quite a competitive streak! His favourite place so far is New York – the city that never sleeps …for exactly that reason! And, he's always had a passion for IT – prior to joining Seriun, he completed an IT Level 3 National Extended Diploma.
Jake said: "I always knew I wanted to work in IT – it's a fast-paced industry where tech is constantly evolving. It fascinates me knowing I will always be learning new things, and I'm looking forward to progressing my career further at Seriun."
Ryan, from Barnoldswick, is a very active young man who plays and coaches American Football for the Burnley Tornados. On the other side of the coin he enjoys relaxing on family holidays in sunny Tenerife. Like Jake, he too previously completed the IT Level 3 National Extended Diploma before embarking on his apprenticeship with Seriun.
Ryan said: "The apprenticeship has taught us the basics of working within an MSP and getting used to working in a high-pressured environment".
He continued: "I'm excited for the future with Seriun now I've passed my apprenticeship and I look forward to the opportunities that lie ahead for me in this everchanging industry." 
Service Desk Manager Paul Jameson said: "Apprenticeships are very much part of our growth strategy. Sourcing our future IT technicians and project engineers from local college talent pools gives us the perfect opportunity to recruit enthusiastic candidates who are eager to learn and progress their careers with us. All our IT apprentices have naturally moved over to full time, permanent contracts following the successful completion of their apprenticeships. They are a credit to the Seriun Team and, as with all staff, are rewarded for their hard work and dedication."  
Interested in a career at Seriun? Visit our careers page: www.seriun.co.uk/careers
Meet the Seriun team here: www.seriun.co.uk/meet-the-team