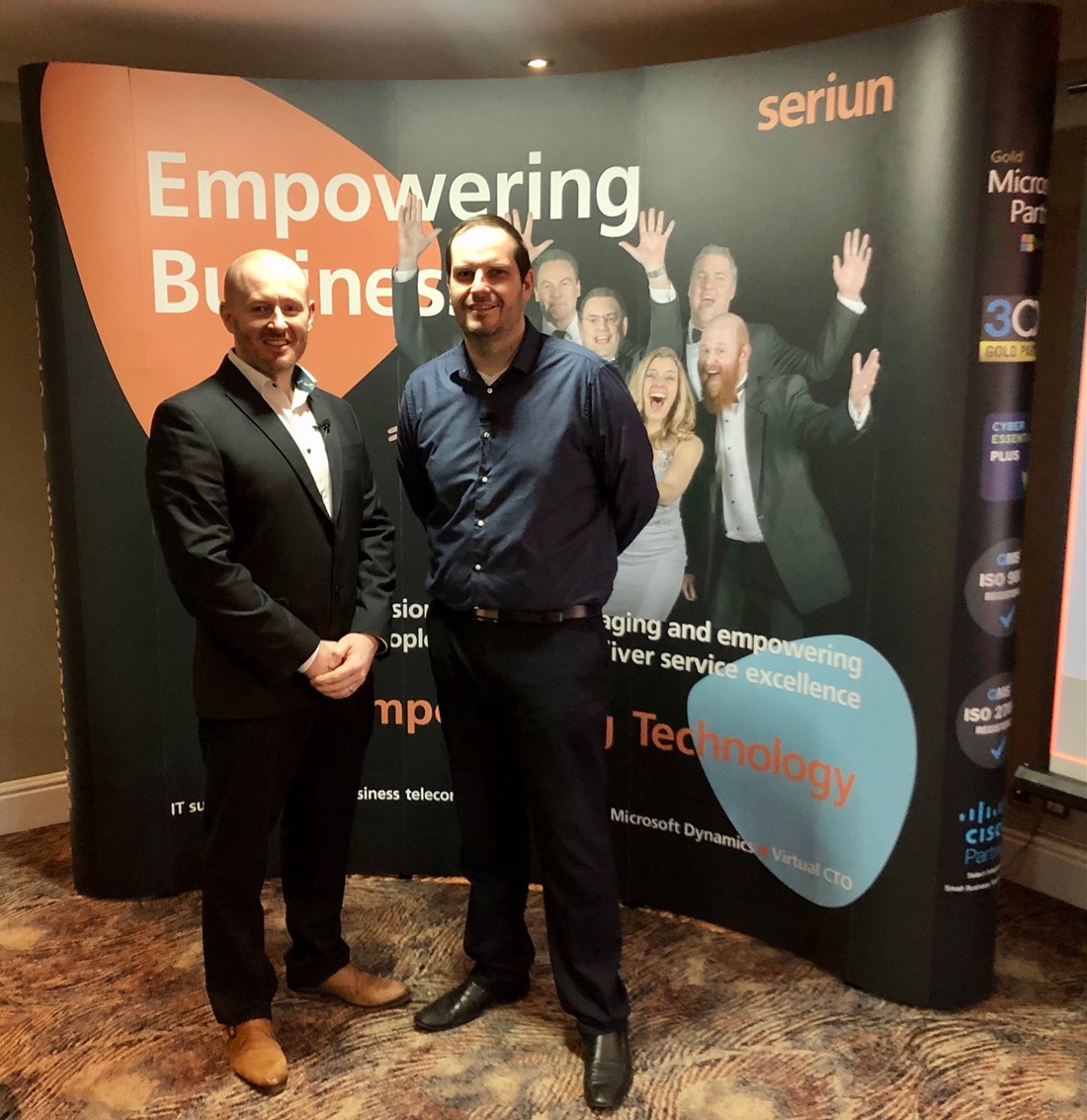 Microsoft will be uplifting the cost of their 365 licences at the beginning of March. The new price structure is sure to cause some confusion and disruption among Microsoft's customers, so Seriun hosted a workshop to enlighten delegates as to what they could expect following the price increase and how they could get value for their money.
The event was held at the Dunkenhalgh Hotel in Hyndburn and attracted over fifty business owners, senior managers and IT managers from businesses across Lancashire. It opened at 8:30am with networking over breakfast, followed by a series of presentations delivered by Seriun's Operations Director Mark Edwards and Cyber Security Engineer Wayne Fulton.
The presentation was split into three clearly defined areas:

– Microsoft 365 price uplift and licence changes

– 365 apps and services overview

– Microsoft cyber security solutions
Mark kicked off the presentation explaining Microsoft's upcoming licence and pricing changes. Basically, from March 1st, Microsoft are raising the pricing of six of their most popular products for the first time in over five years, including Microsoft 365 Business Basic, Business Premium, Office 365 E1, E3, E5 and Microsoft 365 E3. They have introduced the New Commerce Experience (NCE) platform to buy licences through, and have several options to choose from including monthly, annual and multi-year.
To soften the blow, Microsoft have put a couple of offers on the table, the main one being a 5% discount for annual agreements accompanied by a price lock for an extended period. This will only be available until the beginning of March. All the detail can be found in Seriun's event recording, located on their YouTube channel.
Seriun are making it as easy as possible for their customers to migrate to Microsoft's new pricing structure. Over the coming weeks they will inform customers what licences they have, together with recommendations as to what combination of licences and levels they should opt for to ensure the best value for money without compromising performance or efficiency.
Mark said: "We want to make sure our customers, and businesses in general, are getting the most value for money from the Microsoft tools at their disposal – even more so now that prices are increasing. Microsoft's ecosystem is so well connected – all the apps talk to each other seamlessly, making it really easy for teams to collaborate, share and plan securely and efficiently. It's our job to make life easier for busy people running successful businesses."
Mark continued by explaining the hierarchy of apps under the Microsoft 365 umbrella, which most have access to as part of their 365 subscriptions. He explored some of the less well used apps that are often overlooked yet are really powerful tools that can help streamline and simplify business processes – increasing efficiency and productivity.
After the interval, Seriun's cyber security expert Wayne Fulton led the concluding segment, focussing on Microsoft's Cyber Security Solutions that are designed to protect business assets and keep Personal Identifiable Information (PII) safe and secure. Wayne covered three main areas: Multi-Factor Authentication (MFA), Conditional Access and email encryption. He could not stress enough how vital and effective MFA is in preventing cyber crime.
Wayne explained: "Microsoft's Security solutions really add value to any 365 subscription and if included within your licence, should be implemented without further delay. MFA is available to everyone and is the first and most important step in preventing a cyber criminal from gaining access to your business and personal information. If anyone – not just our customers – need help enabling MFA, please don't hesitate in giving me or Matt Whittaker a call and we'd be more than happy to get it up and running for you."
Following the event, Seriun hope their audience left with an informed knowledge of how to better plan their 365 licence structure following Microsoft's upcoming price changes in March. They also hope they now use more of the available 365 apps and put security measures in place as soon as possible like MFA.
Seriun have set a date for their next Seriun Session which will be a live (ethical) hacking demonstration, delivered again by Wayne Fulton. The event will be held on 31st March, so put the date in your diary. Further information will be made public soon.
For further details about Microsoft 365 licence and pricing changes, cyber security solutions, or anything business IT related, please call the team on: 01282 500770.