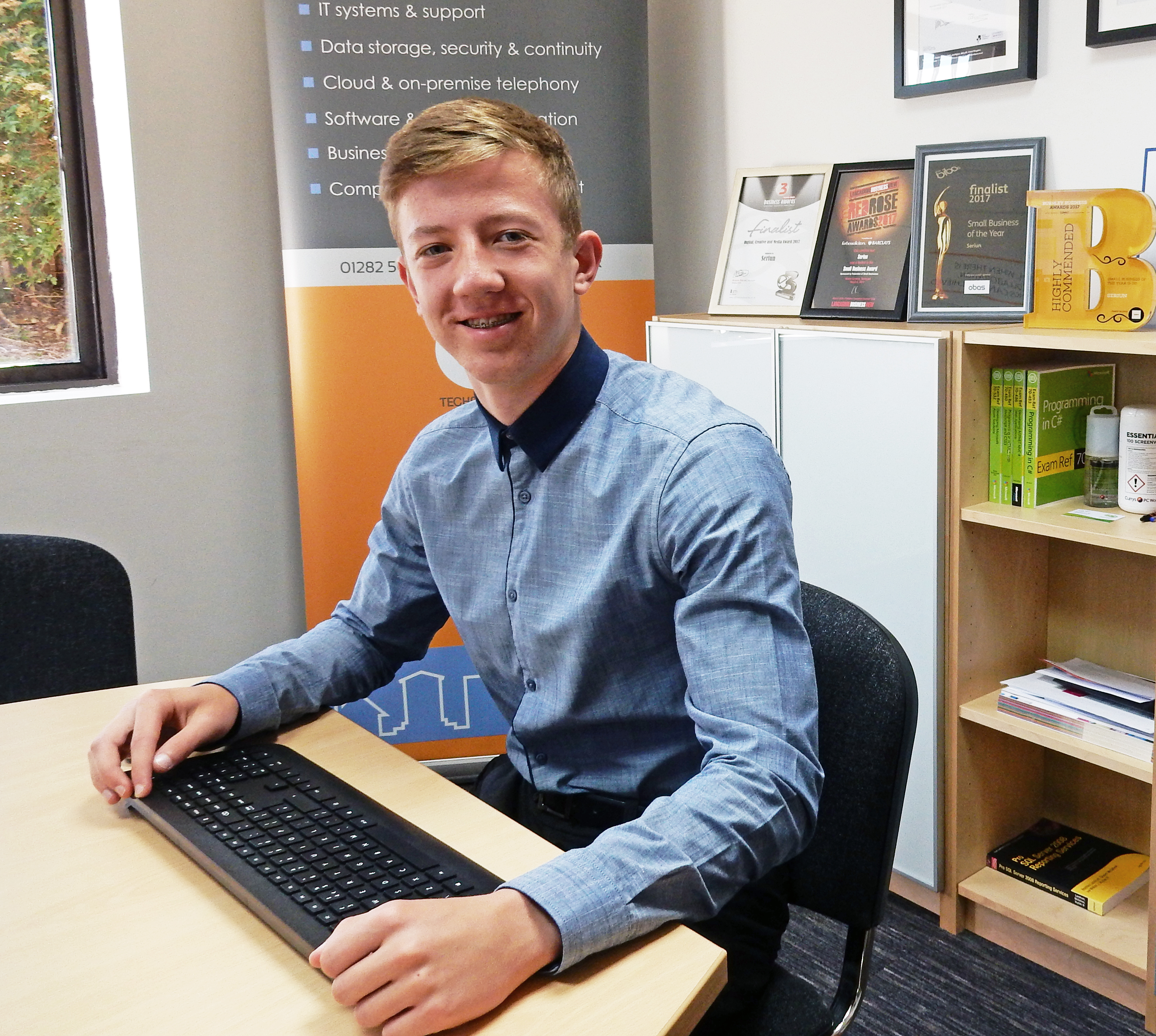 Photo: Louis Owen on work experience with Seriun.
The summer holidays are about to begin for schools around the country. In the weeks leading up to this, students in their penultimate year complete work experience placements at chosen businesses in industry sectors they are passionate about.
St Augustine's RC high school Year 10 student Louis Owen (15) chose Burnley based technology company Seriun for his placement, taking on the role of Junior Software Developer. Louis' passion has always been in computers and technology from a very young age, and in more recent years he has taken an interest in software development. He researched local IT and tech companies in the area and was attracted to Seriun for their service offering and team dynamic.
During his work experience, Louis spent most of his time with the software team getting a real understanding of the software packages and digital solutions they provide their customers. He was then given a web-based project, which he successfully completed using HTML, CSS and Java script skills. Louis also worked with the IT engineers, and was mentored by Liam Paul, who recently began a two-year apprenticeship with Seriun after completing a BTEC at Burnley College. Louis observed the SOC (Security Operations Centre) and learned about Cyber Threat Intelligence, and the preventative measures Seriun employ to keep their customers systems and operations safe and secure.
Richard Lee, Seriun's Technical Director said "IT security is a core function of our business, which we felt important for Louis to get an understanding of during his time with us – it may open up other areas for him to consider as career options in the coming years. Louis is a bright young man and we enjoyed having him as part of the team. We wish him all the best for his future endeavours."
Louis said: "The working environment at Seriun is absolutely wonderful. I have had an amazing week, have learned a lot and I hope I can come back to work at Seriun in the near future."
Towards the end of his placement Louis took the next step in his career goals by enrolling for courses in CSS, HTML and C Sharp programming.
Outside of technology, Louis' main interest lies in supercars – he spots them in locations around the globe, then shares them with the world through his online blogs, which are gathering quite a following!
Photo: (L-R) Derren Stephenson – Head of Cyber Security at Seriun, Liam Paul – IT Engineer Apprentice at Seriun, Louis Owen and William Haddock – Lecturer at Burnley College.