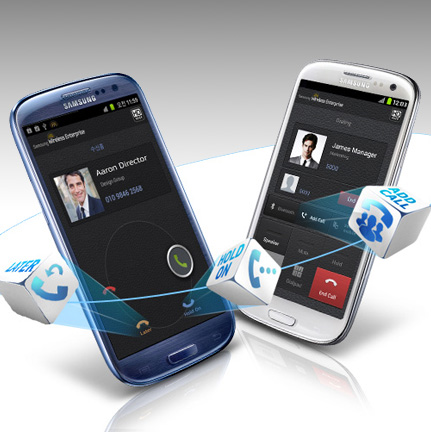 WE VoIP: Turn your smartphone into a fully functioning IP phone
With the number of us working remotely rapidly increasing, many of us are still searching for the most cost-effective way of communicating with our clients and internal teams, without compromising on quality.
Utilising Wi-Fi and 3G/4G networks the new Samsung application offers the ability to transform remote working, improving communication and offering the full range of features a Samsung desk phone provides.
WE VoIP Features
Corporate Samsung OfficeServ 7000 users have the ability to use the WE VoIP app to turn their smartphone into a fully functioning IP phone.
Communicate effectively wherever you are
The application offers the full Samsung IP phone benefits, so you can communicate effectively wherever you are. Using Wi-Fi and 3G/4G networks the app allows you to call, transfer, hold, conference call and much more.
HD voice quality
WE VoIP doesn't compromise on the quality of the call, you will experience the same HD voice quality as you would when using your Samsung desk solution.
Switch between mobile and VoIP calls
Even when using the application, you will be able to switch between mobile and VoIP calls, so you don't need to worry about missing another important call to your mobile when working with the WE VoIP app.
Organise your mobile address book
As with an office-based IP phone the application offers full business caller ID display, which can help you to organise your mobile address book and add organisations, job titles and photos where required.
Why should you utilise WE VoIP for your team?
As with any new technology or telecommunications solution it is important to consider the different pros and cons of integrating this application into your business – essentially what impact will it have for your team?
If you have a team that works remotely and would benefit from improved communication, the WE VoIP application is ideal. As it offers all the same benefits of the Samsung desk solutions, including phoning from your office number.
Key benefits include:
Internal calls between teams are made easier
Conference call function allows your team to be part of a meeting from anywhere
Saving costs on local and international calls
HD voice quality from your mobile
Call control options e.g hold, transfer, reject and call back later
In summary, WE VoIP is ideal for improving communication, increasing productivity, reducing costs and generally improving remote and flexible working abilities for everyone within your organisation.
Find out more about WE VoIP
If you are interested in finding out more about the WE VoIP application, get in touch with our team. We have worked with Samsung for several years and highly recommend their products and solutions to all our clients.
We have assisted many clients with the integration of the WE VoIP app, so if you have any questions please speak to a member of our telecoms team – call us on 01282 500770 or email info@seriun.co.uk and we'll get back to you as soon as possible.