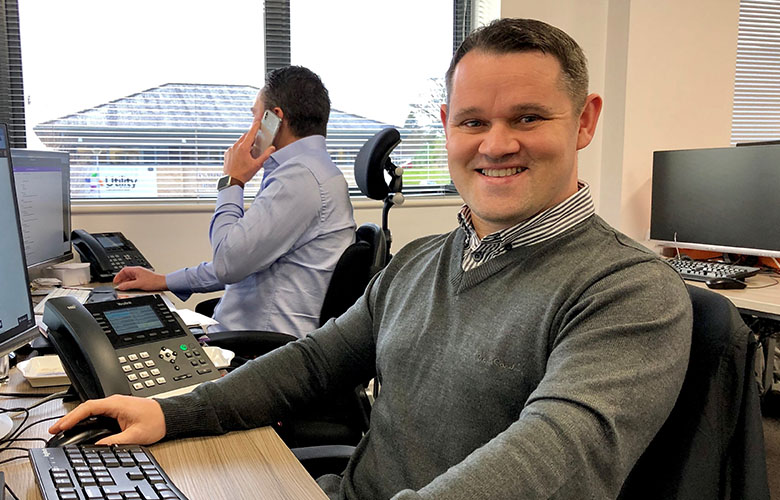 Reflecting a strong past 18 months, we have strengthened our team further by recruiting new Account Manager Shaun Barnes. He started just before Christmas and is already having a positive impact and generating great results!
Shaun will focus on developing customer relationships. He will be working with every customer to get an in-depth understanding of their full operations – allowing him to design the right solutions to help drive their business forward.
Previously, Shaun was the General Manager at Canopies UK where he was heavily involved in implementing operational strategy. As a result, he understands business from the 'other side', that is from the side of our customers. He appreciates what it takes to run a successful business and what assets should be considered 'value' items, essential in contributing to a more productive and efficient business – making him a great advisor to our customers, ensuring their ICT solutions are the right fit for their business objectives.
From Hapton, Shaun is married to Lyndsey and has a teenage son called Joey. In his formative years he went to Habergham Sixth Form, then graduated from UCLan with a BA (Hons) degree in Business Administration. He began his career in the same discipline at Homeloan Management of Skipton, before progressing on to Canopies UK where he held various roles over 14 years, culminating with his final position there as General Manager.
Outside the office Shaun enjoys football and is a proud armchair Everton supporter. He also enjoys travelling to watch his all-time favourite sport UFC (Ultimate Fighting Championship) which features the world's highest-ranking MMA fighters. Among its many global destinations, he has shown his support in Dublin, Stockholm, Cologne and Vegas.
Shaun has settled into his new role and it feels like he has always been a part of the team. Hiring on personality (in addition to knowledge) is paying dividends to our recruitment strategy. Delivering excellent service is our priority, and we can only do this by having the right team at our disposal – personable, happy and dedicated.
Shaun commented: "I'm passionate about making a real difference to the way our customers do business. By working closely with our clients, I get a real understanding of their needs so I can design and implement a solution to improve their efficiency, streamline their operations and ultimately help drive their business forward."
Mark Edwards, Operational Director at Seriun said: "Shaun joins the team at an exciting time during a period of growth and development. There's a great buzz in the office and Shaun fits in perfectly. He brings a wealth of experience with him, which will be of real benefit, not only to us but more importantly to our customers. He can easily relate to them, understand their daily issues and put solutions in place that make their life that bit easier."
Interested in a career at Seriun? Visit our Careers Page.