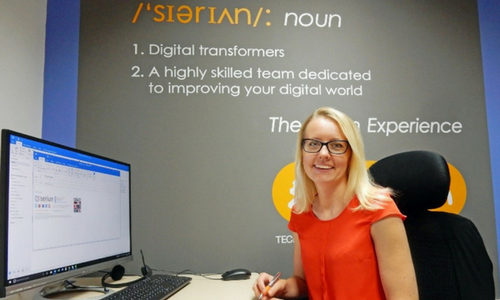 In line with Seriun's recently announced growth plans, they are expanding their team, and have started by taking on a new Head of Accounts.
Raimonda Zapasnike joined the team in May and working with Quickbooks she will be looking after customer and supplier accounts, making sure all financials are up to date and regulating cashflow, invoicing, purchasing and payments. Aside from her lead accounts role, she will also be managing the day to day operation of the Burnley office.
Originally from Lithuania, Raimonda travelled to England for a holiday over ten years ago, but she loved it so much she decided to stay. Her first port of call was to Litchfield down in the Midlands, where she embarked on a bookkeeping course with the Home Learning College and became an Affiliate member of the Institute of Certified Bookkeepers. She started her accounting career as Assistant Accountant with global company Faurecia Automotive where she worked for two years.
She met her husband Andrius in Newcastle so relocated and began a new role as Owner Accounts Administrator for national holiday home company Parkdean Holiday Parks, where she then progressed to Accounts Payable Assistant. Raimonda and Andrius settled down and had their son Aronas, but then a better job opportunity arose in Burnley for Andrius – so the family moved into the area where they have now made their home. A short while later Raimonda secured her current position with Seriun and took the next step in her career as Head of Accounts. She has plans to continue with her AAT qualification followed by the advanced ACCA accounts qualification.
Raimonda said: "There were great opportunities in Burnley for us as a family, and with my new role at Seriun I feel settled and happy with the decision to move. I want to develop professionally by taking the ACCA, and I know I have the full support of Seriun who will help me achieve this. I'm looking forward to the future here in Burnley and at Seriun."
Justin Sherwood, MD of Seriun commented: "We're thrilled to have Raimonda as part of our team – she's a perfect fit with her skills and personality and has settled in already. She has a very important role here at Seriun and we will support her in any way we can, and look forward to seeing her grow and develop over the coming months."