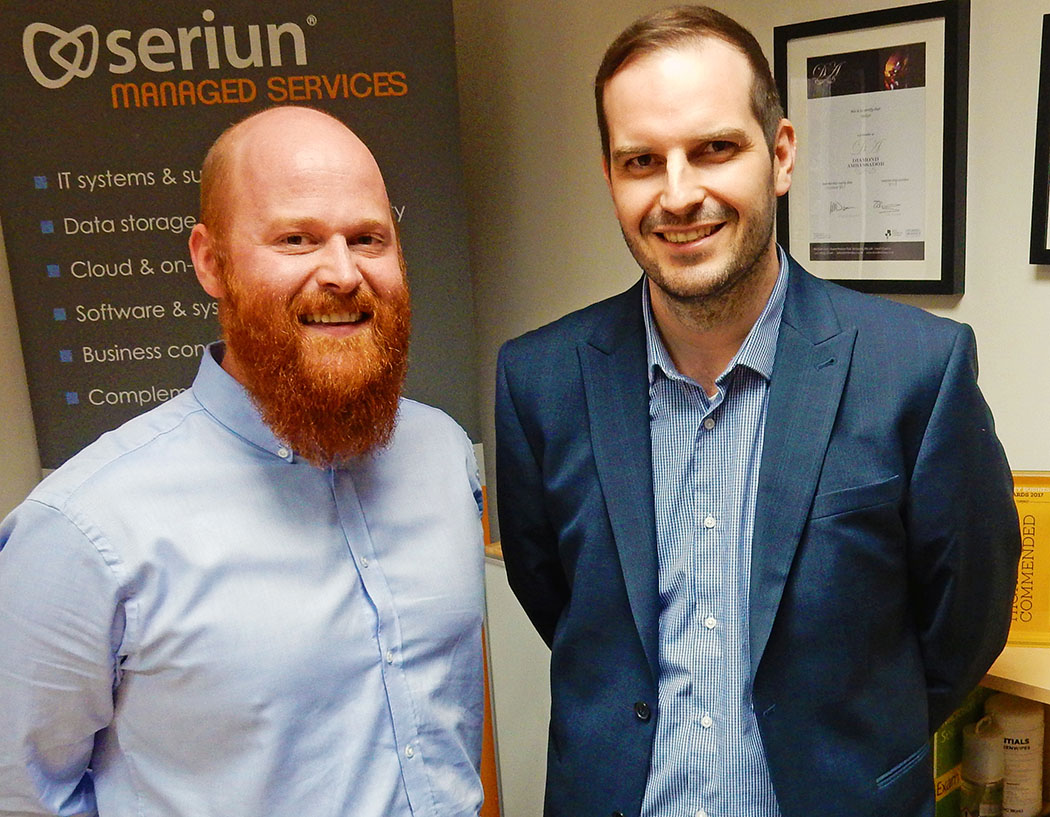 Photo: (L-R) Matthew Whittaker and Mark Edwards of Seriun.
Digital technology leaders Seriun have strengthened operations through their recent appointments of Mark Edwards as Operations Director and Matthew Whittaker as Service Desk Manager.
Both Mark and Matthew join Seriun after many loyal years with StoneHouse Logic, who were recently acquired by Chess ICT.
Mark is a local family man from Darwen, who loves spending time with wife Joanne, and sons Toby (3) and Jacob (11 months). When time allows, he enjoys supporting Blackburn Rovers and catching up with friends. He is a keen amateur cook and loves travelling the world, in particular Australia where he climbed Sydney Harbour bridge and went diving in the Great Barrier Reef. Mark is also Chairman for his wife's charity Friends of Serenity, who he has helped raise staggering funds of over £140,000 during the past 5 years.
As Seriun's Operations Director, Mark will be responsible for streamlining business systems and processes. His duties will see him restructure business activities to increase overall performance and efficiency, while maintaining Seriun's highly regarded working environment.
Mark said: "Seriun's impressive growth plans and dynamic spirit initially attracted me. It's an exciting time for the company, with great things planned for the forthcoming years. I'm looking forward to driving the business forward and being part of this exciting new chapter."
Due to expansion, Seriun recently announced their imminent relocation plans. Their Burnley headquarters will be moving to new premises, double the size of their current office, to enable their anticipated growth over the next 5 years. (Location yet to be announced).
Born in Clayton-le-Moors, Matthew comes from a well-known family in the area – his father owns the local butchers and his mother used to throw the javelin for Great Britain; holding the record for under 21's back in the 1970's! The sporting gene passed onto Matthew, which is evident through his participation in several 10k runs in and around Manchester. Besides socialising he enjoys indie music and rocking out at gigs and festivals.
As Service Desk Manager, Matthew is responsible for managing Seriun's first and second line technical support. Most importantly he will ensure the team are exceeding expectations so they continue to deliver the legendary service they have become renowned for. Matthew will also be regularly liaising with customers and developing relationships.
Matthew said: "It's a pleasure getting to know Seriun's customers – many of whom have been on board since their inception – and with such diverse industry backgrounds, no two customers are alike, which makes it all the more enjoyable."
Richard Lee, Technical Director at Seriun said: "Mark and Matt will be great assets to Seriun, as they bring with them extensive knowledge and experience in their fields. We look forward to having them on board as we take Seriun to the next level."
Seriun are pleased to welcome Mark and Matthew into the team, as they continue on their recent growth strategy, and look forward to an even more successful year in 2019.
Interested in a career at Seriun? Visit: www.seriun.co.uk/careers