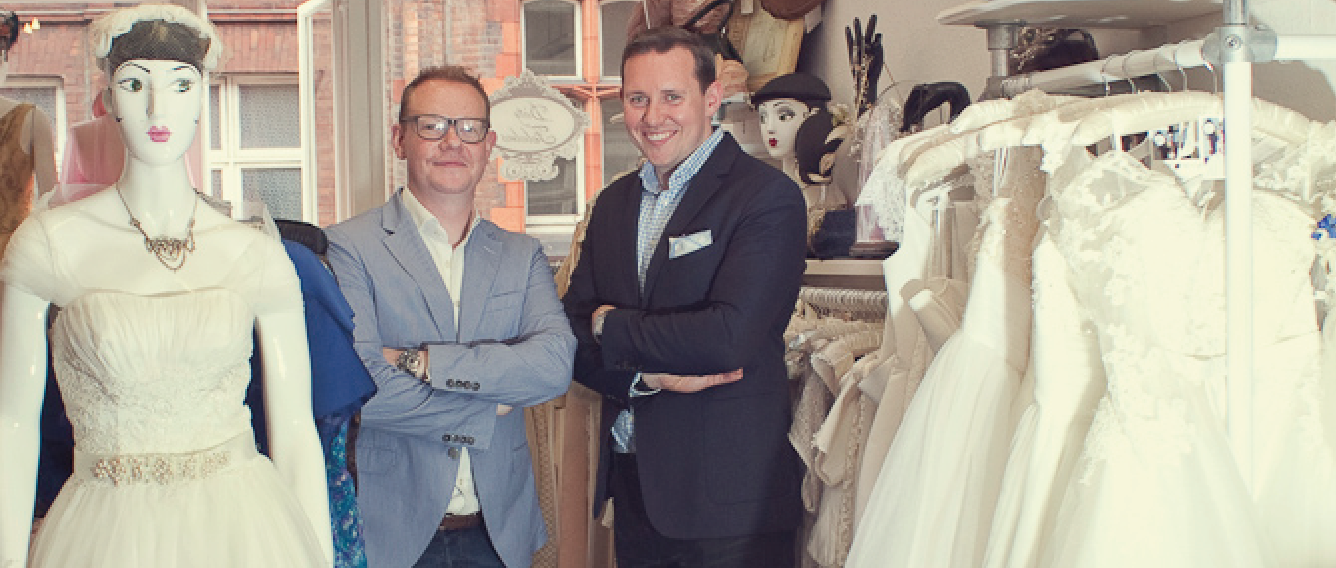 Sustainable Luxury Fashion Website Open for Vintage, Secures Fundraising Target in One Week and Are Now Overfunding Through Crowdfunding Platform Crowdcube with Dan Kiely of Voxpro as Lead Investor.
Open for Vintage, luxury fashion website, was founded by two Irish entrepreneurs Colin Saunders & James Loftus. Open for Vintage has a mission to become the leading online platform for luxury preowned fashion whilst promoting sustainable fashion practices and independent retailers. The online vintage and designer emporium allows customers to shop from a global network of luxury boutiques all on one website.
First launched in 2016 with boutiques in two markets, the UK and Ireland, Open for Vintage is now home to 65 boutiques from 12 markets selling thousands of beautiful one-off pieces. With a global network established, the business is now raising capital to accelerate its growth plans, generating awareness of the brand through a strategic marketing plan and a sales target of £1m+ in 2018.
Partnering with experts in e-commerce solutions, leading Lancashire based technology company Seriun were chosen to develop the unique platform behind Open for Vintage. The platform, which operates a management system providing logistics and curation processes to over 60 independent boutiques around the world, has pulled a lot of attention so far on Crowdcube.
The ambitious start-up secured their target investment of £150,000 in only one week since launching on crowdfunding platform Crowdcube. This funding round was led by Irish entrepreneur, Dan Kiely of Voxpro and now an additional 110 investors have followed suit.
Crowdcube enables anyone to become an investor in the business for as little as £10. Existing investors in the business include current and former executives at Apple, Burberry, H&M and Tesco.
By only selling on behalf of boutiques that specialise in luxury preowned merchandise, Open for Vintage have simplified the authentication process, and customers can rest assured that they are shopping from the best quality preowned merchandise direct from the finest boutiques.
Colin Saunders, CEO Open for Vintage explains: "It is our mission to promote sustainable luxury and support independent retailers. We couldn't think of a better way to engage people on this mission than to invite them to become shareholders in Open for Vintage. With a reach of more than 470,000 investors on the platform, Crowdcube is the perfect partner for us to achieve this. We are delighted to welcome more than 110 investors to join our mission to become the leading online platform for preowned luxury fashion and in doing so, to promote sustainability and independent retailers."
In just over a year since its launch, Open for Vintage has been recognized on the Startups 100 Index of top new UK based businesses. It has also attracted the attention of some of the most prestigious global fashion publications including Vogue, E! Entertainment and The Huffington Post, and international A-list celebrity customers including Kim Kardashian who purchased a selection of pieces including a vintage Escada skirt she wore on Valentine's Day. Hayley Baldwin and Daisy Lowe, as well as Irish VIP's Vogue Williams and Una Foden, are also fans. Attracting such high-profile names has opened up the Open for Vintage brand to a global audience, and in partnering with Crowdcube, the business hopes to build on these influential relationships.
With a sophisticated platform now in place, a global boutique partner network expanding rapidly, celebrity clientele and prestigious media coverage, Open for Vintage and Crowdcube are giving the public the opportunity to invest in the Open for Vintage journey.
Justin Sherwood, Managing Director of Seriun commented: "We're thrilled to have been involved in bringing the Open for Vintage concept to market. We designed the platform for the site to be reliable and scalable, being more than capable of supporting their rapid growth plans over the coming years. We couldn't be happier for the OfV team in achieving their fundraising target on Crowdcube after only 7 days from launch, and we hope they go from strength to strength."
Given the success of the crowdfund and with a desire to build further awareness, Open for Vintage is overfunding and will remain live on Crowdcube until Dec 27th. Investors can discover more at www.crowdcube.com/openforvintage
Find out more about e-commerce and bespoke software solutions

Our team of software experts are ready to speak to you about your project. They will work with you to scope out the initial ideas for development, and together with you will plan the best way to achieve the best results.  To speak to a member of our team contact us on 01282 500770.