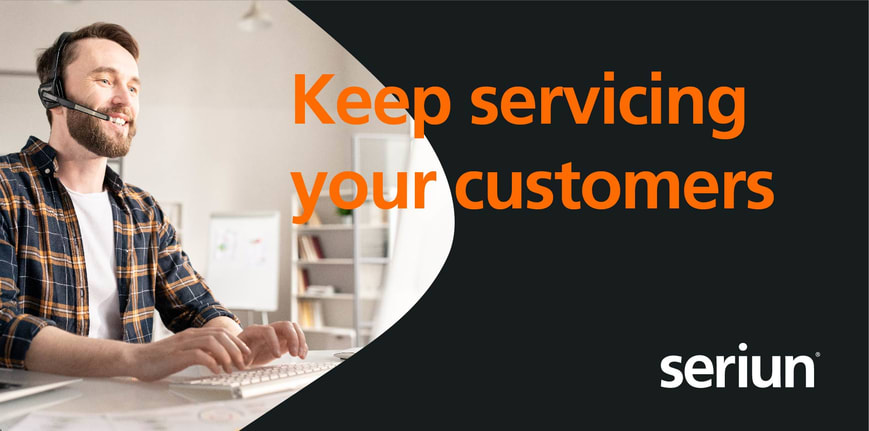 Helping you maintain service continuity
The spread of Coronavirus means more of your team may choose to work from home – this includes our own team at Seriun.
Please have peace of mind that we will be taking care of you and giving you the same great service as normal.
We are fully prepared
Be reassured that our technology and fully cloud-based infrastructure easily allows remote working with full access and operation of all our systems. We guarantee our service levels will continue at the highest standard – providing you with continuous and seamless support.
We operate a strict health & safety policy in the office and are maintaining high levels of hygiene. This includes daily disinfection of all common areas and devices, as well as monitoring the health of our staff to ensure they are safe and fit to come into the office.
If you have remote workers
We will work with you to assess your capability and do our very best to allow remote working. We will give you all the advice we can regarding remote working, antivirus and best practice security measures.
Please be aware
Depending on your infrastructure:
If you have a remote server already, there may be costs associated with increasing its capacity. If you don't have a remote server, we recommend you contact us to discuss remote working options.
Remote working considerations
1. What is the internet speed in the homes of your remote workers?
2. Is antivirus and security up to date on all home infrastructure & devices?
3. Will your remote workers be using compatible equipment?
4. Do you have the correct volume of software licenses for the potential number of remote workers?
5. Will remote workers require local configuration and have access to passwords & information?
6. Do you have the ability to divert your office calls to remote worker mobile devices?
7. Some line of business applications may not work from home – please check access for relevant members of your team
8. Do remote workers have the capability to print from home?
Please note!
If you have a fully hosted solution provided by us or Microsoft – the impact will be minimal, but please still consider the above points.
We are here to assist
All the above considerations have an effect on performance and user experience, but we are here to help keep your business running as normally as possible and will recommend the best way to do this.
Worried about our staff on site?
If you have any concerns about a member of our team who is scheduled to visit your office, please call us and we will arrange to help you remotely.