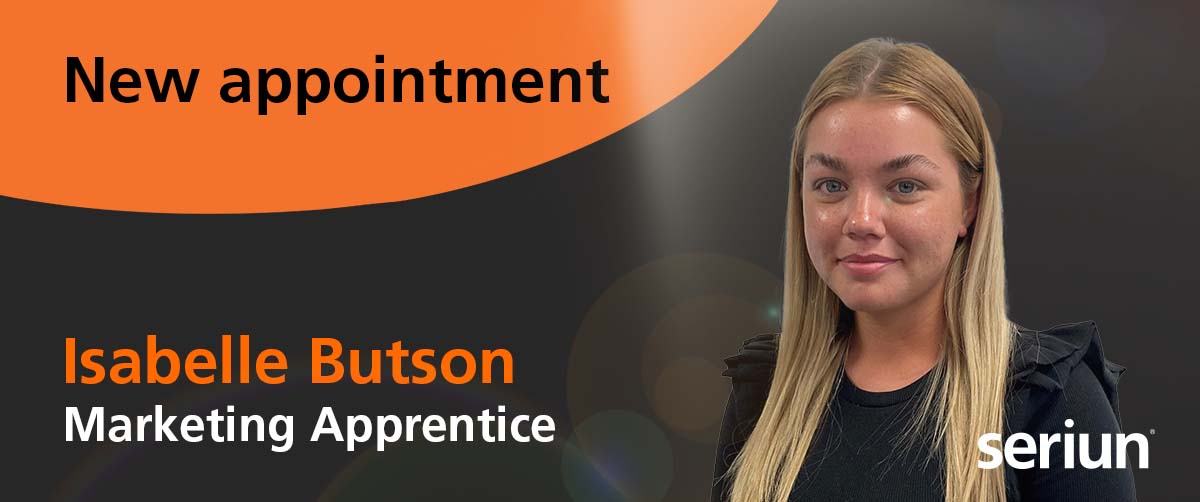 Burnley College student Isabelle Butson takes the first step into her marketing career at Seriun.
A great time to join leading MSP Seriun as they continue to expand their services throughout the country and bolster their teams across all departments. Isabelle is their latest recruit who joins the marketing team to help promote the Seriun brand.
Isabelle lives in Burnley with her Mum and partner and two younger sisters Felicity and Erica. She has recently completed a BTEC Level 3 Business National Diploma and has now started her Digital Marketer Apprenticeship with Seriun, provided by Burnley College.
She has always had a passion for design and particularly enjoyed the design module, which formed part of her BTEC. She wanted to broaden her skills further and apply them in a practical environment, so decided an apprenticeship was the best route forward.
As part of her role, Isabelle will be helping plan campaigns, organise events, design advertising, and write PR, as well as upload news and information to the website and manage their social media channels.
Isabelle commented: "Seriun have made me feel extremely welcome and I am excited to continue my journey being part of their team. I'm particularly looking forward to helping organise and plan Seriun's events and social activities."
Seriun's Marketing Manager Laura Brown said: "Isabelle is a fantastic addition to the team and is learning so much already. It's a perfect time for her to join as there's so much to shout about, and an additional pair of creative hands is just what we need! It's an exciting role that she's stepped into – packed full of variety where no two days are the same. She fits in extremely well. It feels like she's always been part of the team. Welcome Isabelle!"
As part of her apprenticeship with Burnley College she will cover modules including Digital Marketing Principles, Offline and Online Marketing and Coding. She will complete a final assessment before hopefully moving into a permanent full-time role within the business.
In her spare time, Isabelle enjoys the social side of life and loves to spend time with her friends visiting interesting places at the weekends. The most interesting place she has been is Brunei in Malaysia where many of her family reside. Isabelle is also quite the expert dancer with 15 years of dancing experience under her belt covering Showcase, Ballroom, Latin American, Classical and Hip Hop. She's so proficient she has achieved copious medals, trophies and one of the highest awards – Gold Bar II.
The team are thrilled to have Isabelle on board and wish her every success in her apprenticeship.
Interested in a career at Seriun? Visit their careers page: www.seriun.co.uk/careers
Meet the Seriun team here: www.seriun.co.uk/meet-the-team