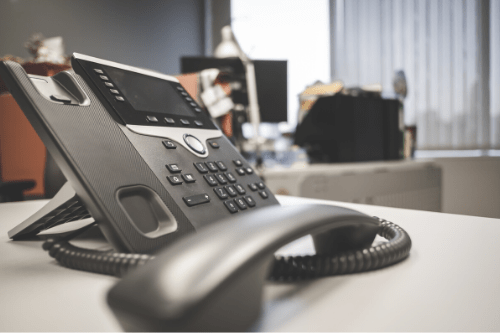 Providing a complete communications solution, 3CX is an industry leading PBX platform which is ideal for growing businesses. At Seriun, we are specialists in sourcing and providing the latest telecommunications technology, with 3CX being no exception.
Our telecoms team have tried and tested a huge range of VoIP systems, ensuring we provide our clients with the highest quality options on the market. 3CX has been carefully chosen as our recommended phone system for many reasons.
3CX is an extensive phone system, created as a solution for growing SMEs with a requirement for communication tools which can expand with their business. As an open-standards PBX system, installation and management of your business phone system is extremely simple.
Benefits and Features of 3CX phone system
3CX has a range of features, all of which come as standard with the PBX package. Offering complete flexibility, this VoIP phone system enables you to take full control of your telecoms solution. Many of our existing clients have opted for 3CX based on the extensive range of benefits the system offers. Some key benefits include:
Full control over your phone system
3CX can be installed on-premise or hosted in your own cloud, giving your business full control over your business phone system. This is a huge advantage as you can make changes in your own time, without needing assistance.
For a growing business, it is essential to monitor the cost of telecoms and connectivity and with 3CX this is simple to do. 3CX is very competitively priced, therefore many of our clients have been able to decrease the costs of their telecommunications when moving to the system.
Having a feature-heavy phone system such as 3CX enables your team to improve productivity, communication and collaborative working. Key features such as chat, status updates and call reporting and recording enable your teams to work more efficiently. Teams can also be monitored and efficiency of call answering, making the system suitable for contact centers.
With softphones available for both Windows and Mac, users can work and communicate easily on the move. Apps also work seamlessly with web-based clients. Your teams never need to miss a call with mobile integration. This also improves workflow for remote teams, which are becoming increasingly common.
3CX has the most advanced and up to date security technologies integrated into the system. The telecommunications system also allows full management of the software in terms of global IP blacklisting, SRTP encryption, SSL connectivity and automatic detection of SIP attack tools.
High level communication software
As an out the box system, 3CX there is no need for additional downloads or extras. Everything you could possibly require from a VoIP system is included, with easy setup available from our experienced team.
Speak to us
If you would like to know more information about Seriun's 3CX phone system, do not hesitate to get in touch with our team.
Simply call us on 01282 500770 or email info@seriun.co.uk and we'll be in touch as soon as possible.